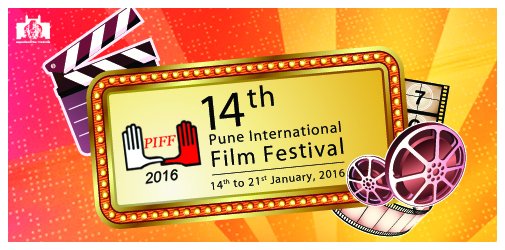 Pune International Film Festival (PIFF) will be based on the theme of 'Sports & Cinema bringing the world together' this year. The theme has been selected at the onset of the war on global terrorism. "There are many differences between countries. But considering the prominence of sports in our lives and the impact of cinema on our minds and hearts, we feel that this festival can be a tiny silver hope to bring the world a little closer with such two powerful mediums," said Jabbar Patel, Chairman and Director of PIFF. The festival is being organised jointly with Pune Film Foundation and the Government of Maharashtra.
This is the 14th successful year of this festival and for the selection, the entries of 986 films were received from more than 104 different countries. This year, more than 200 films from different countries will be showcased during. There will be numerous screenings of the films at various locations in Pune and Pimpri-Chinchwad.
The films will be subdivided into over 15 sections. "The sections include Opening films, Awardees films, World competition, Marathi Competition, Volkswagen International Student Film competition (Live action & Animation), Maharashtra Tourism Development Corporation short film competition (Konkan beaches and scuba diving, Wildlife of Vidarbha, Aurangabad as a tourist destination), Global cinema, Country focus, Kaleidoscope, Retrospective, Indian cinema, Marathi cinema today, Films Division and Gems from National Films Archives of India and Tribute. In addition, this year new sections have been added such as Sports & Cinema bring the world together, Human mind & Cinemas, Literature & cinema, DSK feature animation, Asian cinema and Changing Maharashtra," added Patel.
Like each year, activities such as Vijay Tendulkar Memorial Lecture, seminars on Marathi Cinema, interactions with various reputed international delegates and interviews of expertise from the field will also be organised during the festival. Government of Maharashtra will award the winning film from World Cinema section under the title of 'Prabhat Best International Film'. The prize money of this award is rupees 10 lacs.
Apart from that, five lakh rupees will be awarded to the Best Director. In addition, the government will also award the Best Marathi film from Marathi cinema section.
Titled as 'Sant Tukaram Best International Marathi Film', this prize will comprise Rs 5 lakh. Akhil Bhartiya Marathi Chitrapat Mahamandal will also award Rs 25,000 to the Best Director, Best Actor, Best Screenplay and Best Cinematographer during the festival. The Best Film award for Volkswagen International Student Films Competition will be USD 1,000.
The other prizes will be awarded to Best Director, Best Screenplay, Best Cinematographer and Best Audiographer amounting USD 500 each. In addition, the Best Animation Film (India) and Best Animation Film (International) will be awarded with USD 1,000 each.
Courtesy: http://indianexpress.com